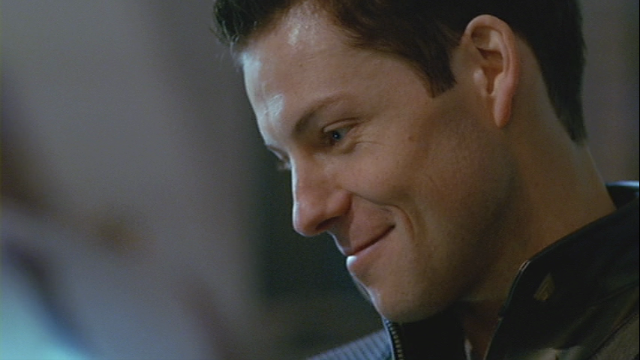 Title:
Battlestar GalacticaOriginal Airdate:
December 8th and 9th, 2003
Availability:
For sale on DVD and Blu-ray and available for streaming on Netflix and Hulu Plus.
Synopsis:
Short Version: Robot Apocalypse! Longer Version: After a devastating nuclear assault on the Twelve Colonies by the Cylons, once a race of robots enslaved by humans that now look human themselves, the remnants of humankind form a "rag-tag fleet" and embark on a quest to locate a new home - the fabled thirteenth colony known as Earth. There they hope to find refuge and survive as a species. But along their journey, humanity learns some important lessons about itself and how they may be their own worst enemy.
Worth Watching?
Do I
really
need to answer this one???
Does he live or die?
He definitely survives the mini series. ;)
When I had the idea for "Character of the Month", I purposely delayed covering my favorite
Battlestar Galactica
character because it was safe to assume everyone knew about Lee and it would have been a pretty frakkin' obvious choice. But now Jamie is re-teaming with his old boss, I thought it was rime to revisit the character that made many us take notice of him. As I've admitted before, to my great shame, I did see Jamie in a
Hornblower
film...or two...years before and overlooked him. Oops! And while he certainly got my attention in the BSG mini series, I didn't fall hard for Captain Apollo and, by extension, Jamie, until "Bastille Day".
I actually had a rather lengthy debate with myself as to how to approach covering Lee Adama. It seemed too daunting a task to cover Lee over the course of the entire series. Technically, the mini is separate from the series. Then there is a major shift for the character in late Season 3. One worthy of CotM Part 2. So, do I pick out a single episode to cover? Favorite Lee Adama episodes will vary amongst us all. Ultimately, I decided to begin with the beginning. The moment when Leland Joseph "Apollo" Adama stepped out of his cockpit and into our hearts. :)
For anyone who has not yet seen the entire series, I did focus on the mini series and only make vague and general references to future developments.
(
Collapse
)