I am very excited to announce that Jamie is off to Melbourne, Australia this week to begin production on the film
John Doe
. :D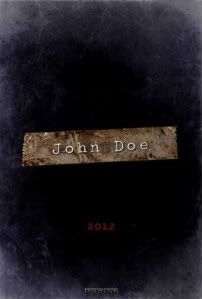 Synopsis from IMDb:
Some call him a messiah; others call him the devil. One man challenged everything we know and accept, in an attempt to unite humanity against modern social decay. His actions were hailed, mimicked and condemned worldwide... Now, as we await the verdict of the most controversial and compelling case in history, we come face to face with accused serial killer John Doe as he dissects his chilling collection of video diaries; intimately explaining and reasoning the events that have come to divide communities worldwide. Was he a media monster or the genesis of a new era?
Written by Stephen M. Coates and directed by Kelly Dolen, the crime thriller is scheduled to begin production next month and will film in and around Melbourne. Described as "
Seven
meets
District 9
by executive producer, Rob Woodburn,
John Doe
"documents the actions of an often misunderstood anti-hero as he attempts to rid his community of criminals while striking out at those he knows are about to commit crimes". To read more about the genesis of the film from script to screen and the filmakers hopes for it, you can read more of what Mr. Woodburn has to say at
Filmlink.com
.
At this time, I do not know if Jamie is the lead in the film or if he has taken a supporting role. He is not yet listed on the IMDB entry, but I have confirmation of his involvement from two sources. As soon as I find out more I will let you know.
ETA: Yep, Jamie is playing the lead character, John Doe. :)