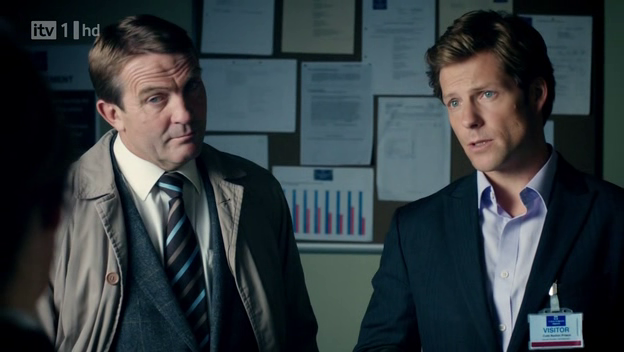 "Survivor" written by Emilia di Girolamo





We've discussed how much the moments of humor are appreciated in a series that can deal with some very dark subject matter. This week's highlight in the humor department took place as the prison guard was using the metal detection wan on Matt and had it repeatedly set off in, let's just say a delicate area.

Ronnie: "In case you were worried, love, that's not a file."
Matt: Eye-roll

And perhaps in an effort to provide balance for the shipper factions, we had Matt's, "What's not to like?", followed by Alesha turning away and smiling. I still lean towards James/Alesha, but moments such as that make it harder for me to decide who to root for. ;)

For those unaware of Emilia di Girolamo's work outside of Law & Order: UK, I would direct you towards her website. For years, both personally and professionally, Emilia has worked towards bringing attention to the problems within the prison system in the U.K., particularly the plight of female prisoners (many of the same problems exist within the U.S.), and I quickly saw why Emilia was the perfect writer on staff to tackle the material.

I continue to be very impressed with the casting of guest actors on the series. I was not familiar with Wunmi Mosaku (Tamika Vincent) before, but she did a wonderful job portraying Tamika as both a frustrating character and sympathetic one. And while her actions (seeking out the murder of the prison guard) are not entirely forgivable, you are able to empathize with her inability to see any other recourse.

This is the second week in a row where as much focus has been placed on one of the main characters as the case at hand. As the series has progressed, one aspect which seperates this Law & Order from the original is the development of the main characters. We're welcomed into parts of their lives and made to care about these people. I have to admit, prior to this season, I was mostly watching for Jamie. What converted me from casual viewer to fan is the characters. It's always about the characters for me. I can overlook quite a bit if I care about them, if I want to spend time with them each week. This current series has turned me into a die-hard fan.

And the character growth has been organic. Last week, we saw Matt open up a bit and show his emotions as it was his friend who was murdered and both men shared a long buried childhood trauma. This week, Alesha not only sees what her life could have been had she not chosen a different path, but she and Tamika must deal with moving on from the same brutal crime. I've been told that we will be seeing more episodes where individual cast members are at the forefront and I look forward to it.

Is it just me or does James seem more relaxed this series? It's little things, like fewer ties and eating his lunch while discussing the case with Alesha, to manipulating Tamika's brief at the bar. I like it!

One thing didn't quite work for me. At the end, we see Matt and Ronnie sitting outside the courtroom, then getting up to follow Jackson Marshall. I'm assuming they were following him to make sure he didn't do any harm to Tamika's daughter, but it wasn't clear and we didn't see the three again.


Now, what did everyone else think?

And a few reminders and links of note:

Last night, CityTV aired "Confession", AKA: Jamie's Big Episode. last week's discussion (a pretty good one) can be found here.

Tonight, on BBC America, the series debuts in it's regular time slot with , "Unloved". A repeat of the series premiere, "Care", immediately follows.
mardia, having watched "Care" on On Demand, can confirm the service is airing the unedited episodes, but watch the broadcast on BBC America first. :)

The NBC Universal Store is selling the first season of Law & Order: UK, to be widely released on October 26th, for the low, low price of $19.98 - 50% off the retail price!