The Lady's in Charge:
A Q&A with Lead Writer and Co-Producer of "Law & Order: UK", Emilia di Girolamo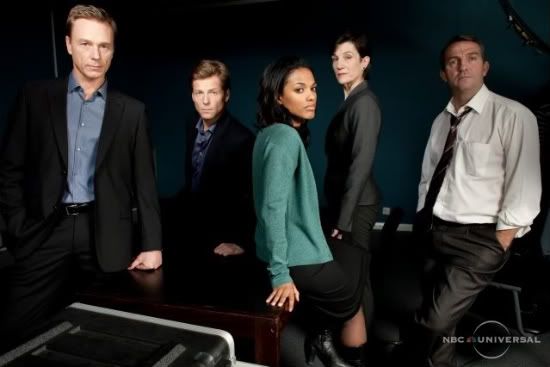 Emilia was gracious enough to find time in her busy schedule to sit down and answer the questions posed by myself,
zegeekgirl and members of the community. It's the first interview she's done since becoming a co-producer on the series and comes just as the Series 4 finale, "Skeletons", premieres on City TV tomorrow night. If you've seen all the episodes of the series to date, there are no spoilers within the Q&A. However, if you're tuning in to watch on BBC America for the first time, then be warned there are some small spoilers within the interview.



How did you become a writer for "Law & Order: UK"?

I've been a huge fan of the mothership for as long as I can remember and when I heard Kudos were making the show for the UK I knew it would be a dream job. Showrunner Chris Chibnall read my spec script and wanted to meet. It didn't take a lot of prep because to get to talk about why I love Law & Order was easy! Of course the spec Chris read had all the hallmarks of my favorite crime show and once he'd heard my passion matched my writing he offered me the job.

You were recently announced as lead writer and co-producer on the next 13 episodes, how does your job differ now?

I get a say on which episodes we choose and help shape the series as a whole. I also get to create any new regular characters and have input on casting. It's exciting being part of those big decisions writers in the UK don't usually get involved with. I suppose the irony is I have more writing to do and less time to write but I love being more involved.

Is it ever difficult in your writing to reconcile the realities of criminal justice with the need to tell a satisfying story?



Of course there are aspects we have to dramatize and I'm sure lawyers watch the show and say 'that would never happen' but we have great legal advisers and while we push the boundaries of credibility here and there, in general what we do either does or could happen. I think in TV drama, telling a satisfying story has to come first but keeping that story bound to reality is important in a show like Law & Order UK.

What's the best and worst thing about having London as your setting for these characters' stories?



London is an incredible city. We have so many amazing locations to choose from and a huge range of diverse communities to inspire characters. It's a city like New York that has a gaping chasm between the wealthy Londoners in their West End apartments and the underclass scraping by on the grimmest council estates. That makes for rich territory for the writers. I really can't think of a 'worst thing'. London is the perfect setting for the show.

There are so many L&O episodes to choose from when adapting for L&O:UK. Who generally makes the call with regard to which scripts are chosen for adaptation, and what kind of criteria goes into that decision?

In the first couple of seasons Chris Chibnall cherry picked the scripts. When Chris left the show the writers chose their own episodes and we all pitched them to our producer and exec and eventually came to an agreement (after a few debates between Terry Cafolla and myself – we loved so many of the same episodes!) This season as lead writer I've suggested episodes to some of the writers but we've also taken on board the episodes writers have found for themselves and want to write.

I'm always looking for episodes that have a strong relevance to the UK and feel ripped from our headlines. I might find an episode that's twenty years old but still feels current and relevant because we've seen echoes of the theme in a number of recent UK cases. "Bitterfruit" is 15 years old but we had a UK case a couple of years back where a mother was convicted after she arranged the kidnap of her own child. It made the adaptation, "Hidden", feel incredibly relevant.

We all love the episodes that have big twists and interesting moral debates. There are some episodes that are very hard to translate because they deal with areas of law out of the realm of the UK experience, for example the death penalty or episodes, which rely on areas of American culture, which feel less relevant here.

How is it decided which writer works on which scripts?

We want writers to explore themes and cases that intrigue them so sometimes we find an episode to match an idea they have or they choose an episode that inspires them.

From reading your Twitter feed, you're a big L&O:SVU fan. Is the plan to stick with the original recipe L&O scripts for source material or do you see the possibility to perhaps adapt scripts from any of the other shows in the franchise?

There are some incredible SVU scripts and I would love the chance to adapt them but I don't think that's likely any time soon. We have so many great L&O scripts to choose from first but it's certainly an idea!


Thus far, all episodes have been adapted from Law & Order scripts. Will you and the rest of the creative team be writing any original stories?

We've got twenty years of fantastic stories from the mothership to adapt. It's actually incredibly liberating adapting the US scripts. They are terrific stories and as long as we can make them relevant to a UK audience we have a huge pot to pick from. As the next couple of seasons air you'll see us take those original stories on much bigger journeys.

Is there a contractual obligation prohibiting the writing of original stories?



You would have to ask our exec!

How do you go about adapting a plot from the US? Is it just a case of anglicizing or are there other techniques you use?

It's definitely not just a case of anglicizing. It's about finding the story I want to tell within the existing storyline or spinning off from the existing storyline. For example, "Killerz" is inspired by the Mary Bell case and examines the way the US legal system deals with child killers. The UK adaptation "Broken" does the same but in a very different way and with a very different outcome. Mary Bell was a starting point – the headline if you like – but "Broken" wasn't about any one real case.

Because our legal systems deal with child killers differently, the story had to change too but it's also about the writers views. I wanted to challenge the UK attitude to how we deal with child offenders. At ten we have the lowest age of criminal responsibility in the world. Ten year olds are tried in adult court, as adults, in murder cases. As a mum myself, that's something I find very difficult to rationalize.

After reading Richard Sweren's brilliant script, I thought about the Mary Bell case, a case I'd previously researched and knew very well and for me the most startling aspect was Mary's background, specifically her parenting. I approached the adaptation with a focus on how Rose, the killer in "Broken", came to be a killer, why she lashed out at another child so viciously and what we could do as a society to heal her.

Were you surprised by the reaction to "Broken"? Especially given the story was adapted from a U.S. script based on the Mary Bell case? Controversies over scripted television are not unheard of in the U.S., but never over decades old cases, so the criticism and backlash took many of us by surprise.

We felt we'd made an incredible episode about an important debate – how do we treat children who kill? Some of the press around the episode seemed to distract from the real debate, which was a shame. I'm hugely proud of the episode and think the subject matter was dealt with incredibly sensitively by the whole team.

I think it's important to say we've also had a huge amount of positive press around Broken and the rest of the series too.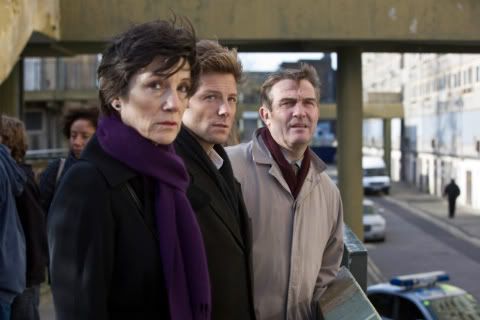 Do the cast and writers ever have any difficulty with the material given the cases are often based on real, and often violent, crimes?

We select the sort of crimes very carefully. We want to explore topical, relevant cases but we don't want to offend or upset anyone. It's a difficult balance to strike. If you're writing about a child killing then inevitably it's harder. Many of the writers, cast and crew are parents so we never take these cases lightly.



What is the process from script to screen? How much is the cast involved?

The actors don't get the script until its pretty much ready to shoot. Sometimes they have comments or questions and the writers take their suggestions on board.

How much input does ITV have on the final scripts? Specifically, are there any episodes that you've adapted where perhaps the content of the American version was deemed a bit too extreme and the network requested it be toned down/scaled back?

ITV execs give us notes on our scripts as any network would but they have never asked us to tone down an original in the adaptation. They trust us to deliver the show.

You definitely seem attuned to the discussion online about the show, to what degree do the writers' listen to feedback on the episodes?

By the time you read the feedback the episode is already out there but of course we take on the fans feedback and consider it in relation to future episodes. Right now we're hearing that the fans love the episodes, which give an insight into our regulars personal lives and stories so we're introducing a little more serial where we can.

Have there been any criticisms of certain plotlines or characterizations that you've actually found to be valid and taken into account when writing subsequent episodes?


Every show gets criticized to some degree and you can't please everyone all the time. L&O UK has a great formula, a strong cast and deals with a diverse range of stories so I think mostly, we keep our fans happy.

Which episode is your favorite episode of the current run?

I love "Defense". I think Debbie O'Malley is a terrific writer and brings something very special to the show. Rupert Graves' performance was incredible.

My favourite episode of my own is "I.D." Director Andy Goddard did an amazing job as always and it's a complex episode exploring a really fascinating aspect of UK law.

Do you have any personal preferences among the principles for characters that are fun to write, or does it depend on the episode at hand?

I love writing for all the characters. We're blessed with such a strong cast. I genuinely don't have a favorite! Writing Ronnie is always enjoyable because he brings years of experience and history with him and it's always interesting to look at a case through his eyes.

Is there a show bible that exists where you have histories/backgrounds of the principle cast sketched out, or are the actors left to keep their own perceptions of their characters' back stories in their heads unless the scripts dictate otherwise? Are the actors allowed to make contributions to their character development?

We have a bible created by original showrunner Chris Chibnall but inevitably characters develop with each new series and the writers add in a few little gems along the way. The actors have very clear ideas about who their characters are and sometimes flag something up in a script which they don't feel works for their characters. The writing team take that on board of course.

Ronnie's background is very similar to that of Detective Lennie Brisco. Elements of detectives Logan and Curtis seem to inform Matt. How was it decided what aspects of backstory to take from the characters American counterparts?

You would have to ask Chris about that as I wasn't part of the original core team and came in very late on in the first thirteen.

We're only two episodes into Series 3, but Matt seems more mature, less impetuous and less single-minded then he was in Series 1 & 2. Was there a plan to have Matt, through his experiences in the first thirteen episodes, become a more seasoned detective and more Ronnie's equal? Or was that a decision made over the hiatus?

I think Matt's just developed that way, partly because of experiences he's had within the first two series but also just because characters evolve as different writers come on board and add their perception. I don't think we've made a conscious decision to make Matt less impetuous or single minded, In fact I'm writing an episode right now where he is incredibly single minded. I think that's one of Matt's traits but it takes a certain sort of case to bring that out.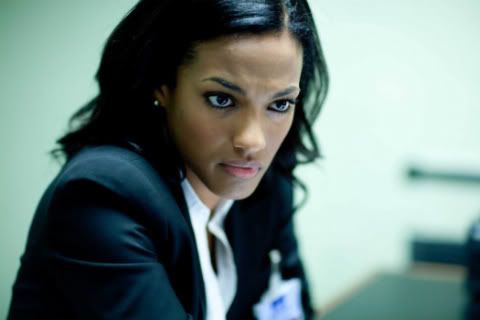 In "Alesha", Alesha is sexually assaulted. Were there concerns about having one of the main characters be a victim of such a horrific crime and so early in the run of the series And as we've not yet seen much of how she's dealt with that, is this something the show will be revisiting?

Again those discussions would have happened before I was on the scene so I can't comment on them but we revisit Alesha's feelings about sexual assault in "Survivor" and "Masquerade". Rape and sexual assault is something you live with forever. Alesha is a survivor rather than a victim but that experience will affect her for the rest of her life and we would always be mindful of that when she deals with cases of rape and sexual assault.

In "Hounded", James, Alesha, Matt and Ronnie discuss a case in the detectives room together. Will there continue to be more interaction between the cast in a more casual manner as the series goes forward?

It's lovely when we have the opportunity to put four of our heroes in a room together. I love bringing the cops into the legal half and vice versa. Yes, I think there may well be more of this to come in future episodes so keep watching.

Are we going to have a Natalie Chandler-centric episode? Everyone else has had or is going to have an episode centering on them, but fans would love to know more about the feisty Mrs Chandler. Can you give us a fact or two we don't already know about her?

Natalie is such a fantastic character and Harriet is a hugely talented actress. I would love to see a Natalie centric episode but I think we would need to find the right story, at the right time.

While in early episodes we saw Matt flirt a bit with Alesha, late in Series 2 and in Series 3 we've seen the relationship between James and Alesha grow with hints of the two spending time together outside of the office. Ben and Freema have great chemistry together, are there plans to pursue a relationship between the two on screen?

Will they won't they? Now that would be telling! There is fabulous chemistry there and lets face it who wouldn't fancy the gorgeous Freema? But if I told you I would have to kill you!

Why doesn't Alesha wear a wig? Is it because she's a junior prosecutor?

Alesha is a Junior Advocate and they don't have to wear wigs in court.

What is the relationship like between the cast and crew?

Incredibly warm and happy. I know that doesn't make for interesting copy but we really are blessed with the loveliest crew and cast in the world.

The new season looks and feels more British, and the actors look comfortable in their roles. Now that the show is moving to BBC America, should we expect changes to the format and story lines to make the show familiar but uniquely British for the American audience?

Well so far America loves us so I think we'll just stick with what we're doing. The reviews and reception in the US have been amazing. We're all thrilled the show is airing on BBC America and are very excited to see it already has a loyal fan base building state side.

What do you think makes "Law & Order: UK" so successful? Do you think it has the same chances for long term success as it has in the U.S.?

I really hope so but the TV industry is fickle so who knows! What makes it so successful? Great cast, brilliant writing team, Producer and Exec producers and topical, relevant stories.


Once again, I'd like to thank Emilia for taking the time to answer our questions. If her schedule allows, she would be up for answering more questions in the future. In the meantime, if you'd like to read what she has to say on a regular basis, make sure to follow her on Twitter: @EmiliaDG.