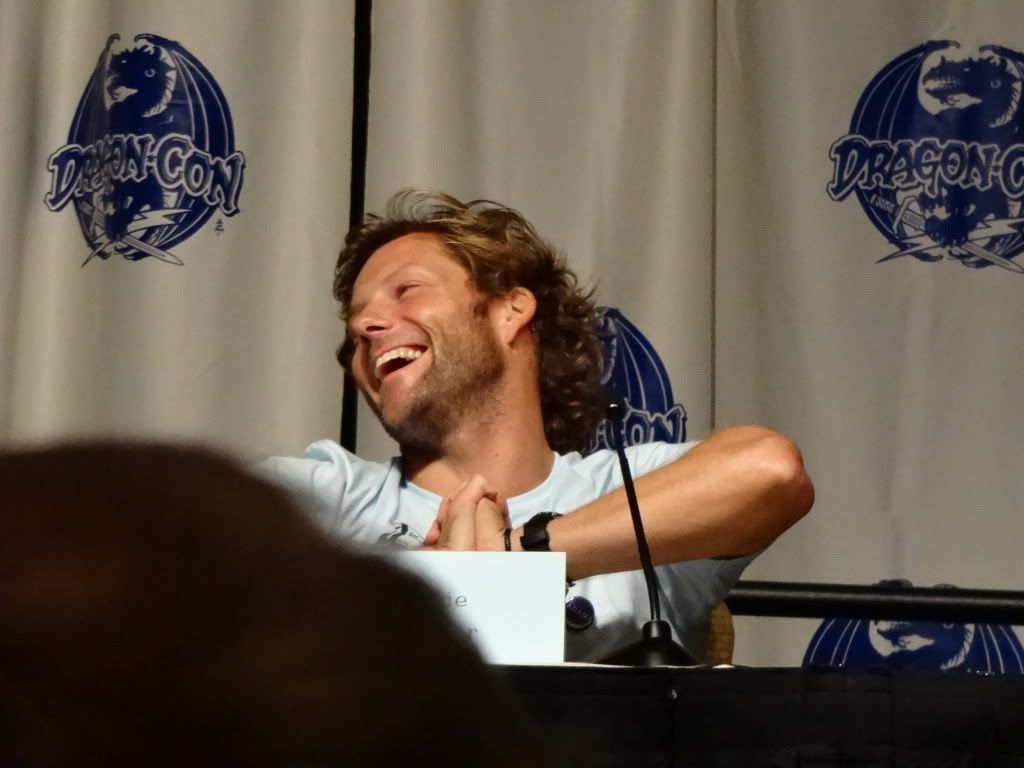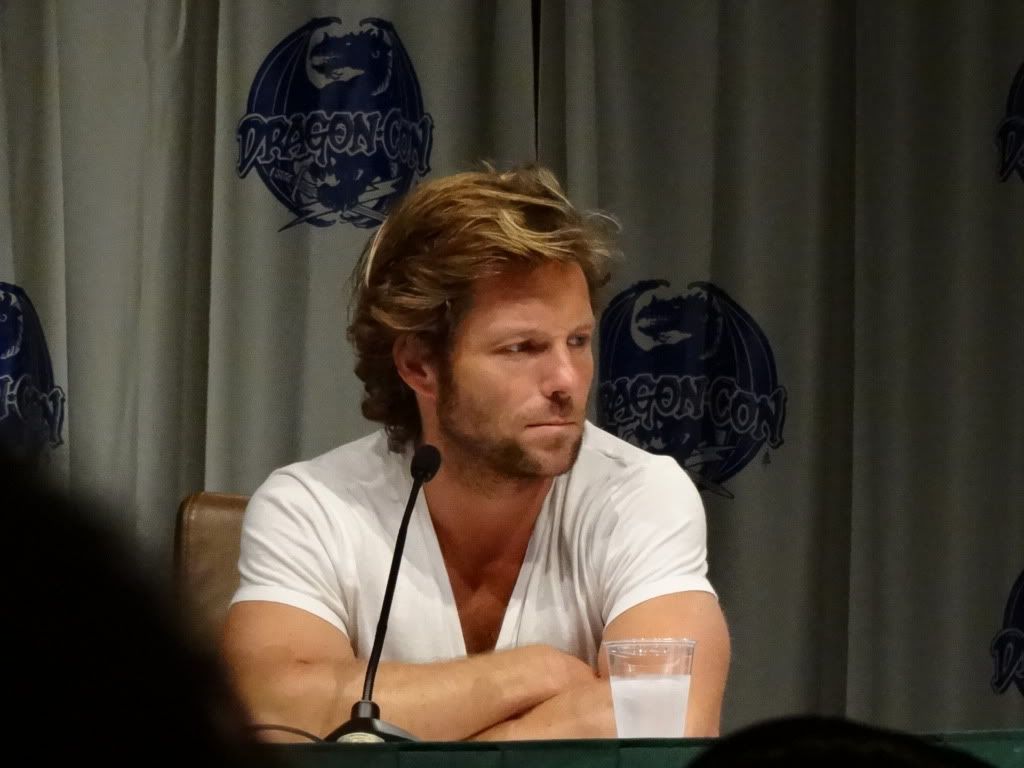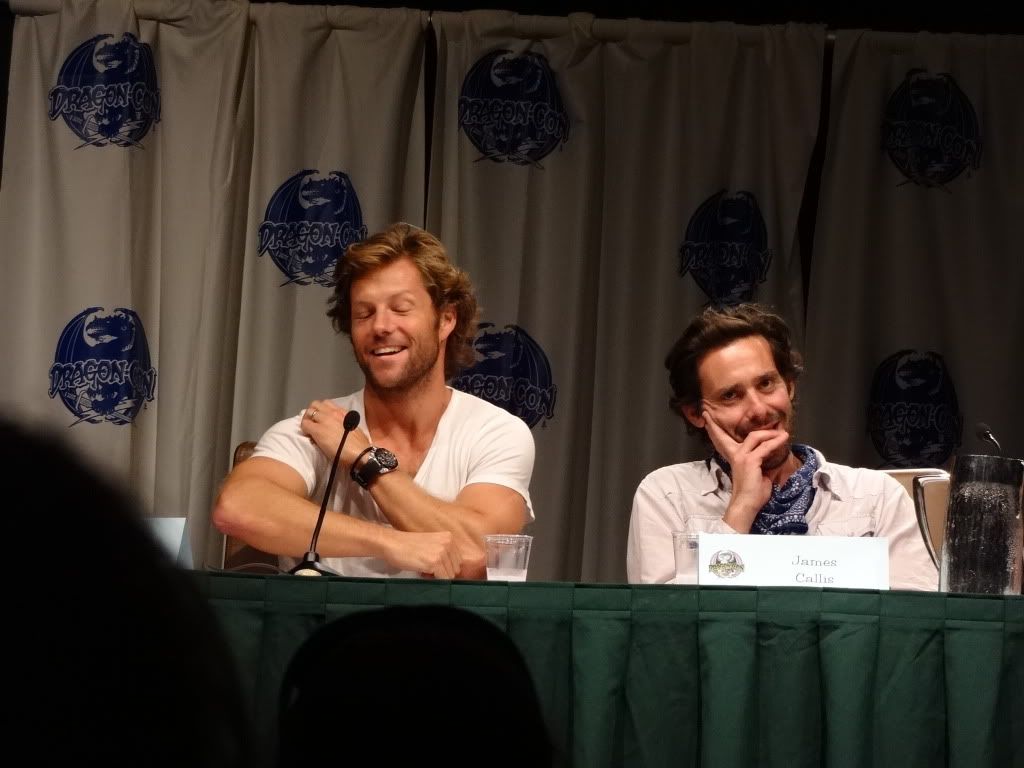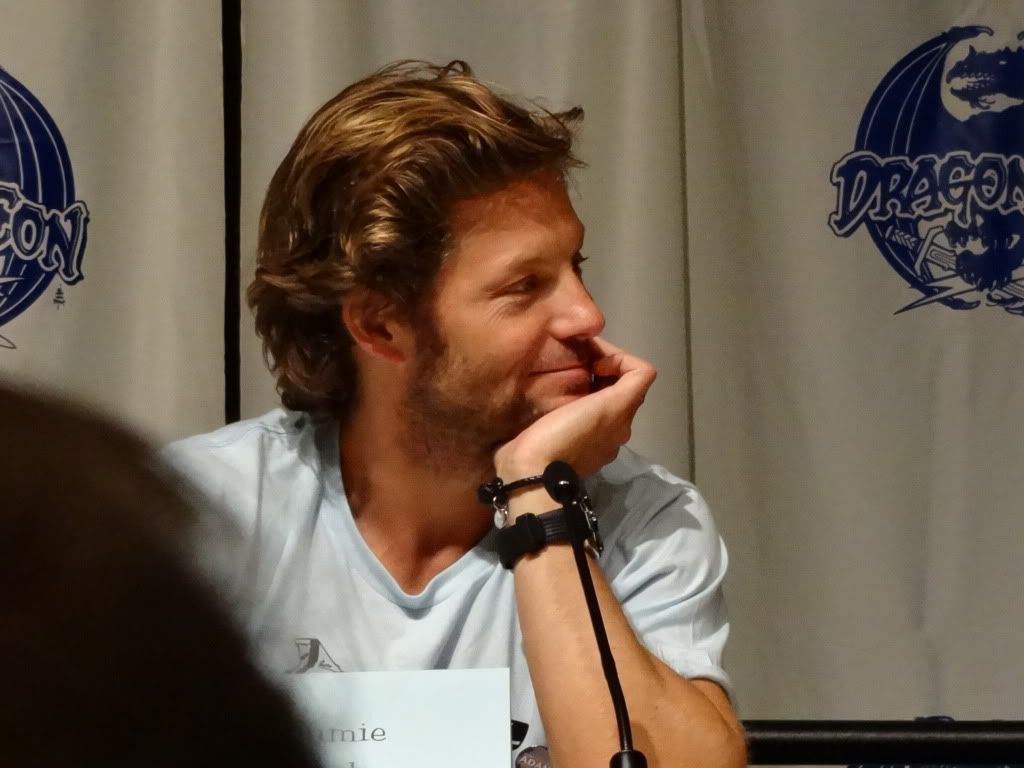 The rest of my photos from Days 2, 3 and 4 of Dragon*Con can be found HERE on Photobucket. And if you'd like to see some really nice photos, let my direct you towards some fine folks on Flickr: insanitydriven, eeskatyel, rococoms and mabaslucyfur.

And Michael Trucco posted this lovely group shot on Day 3 of the convention...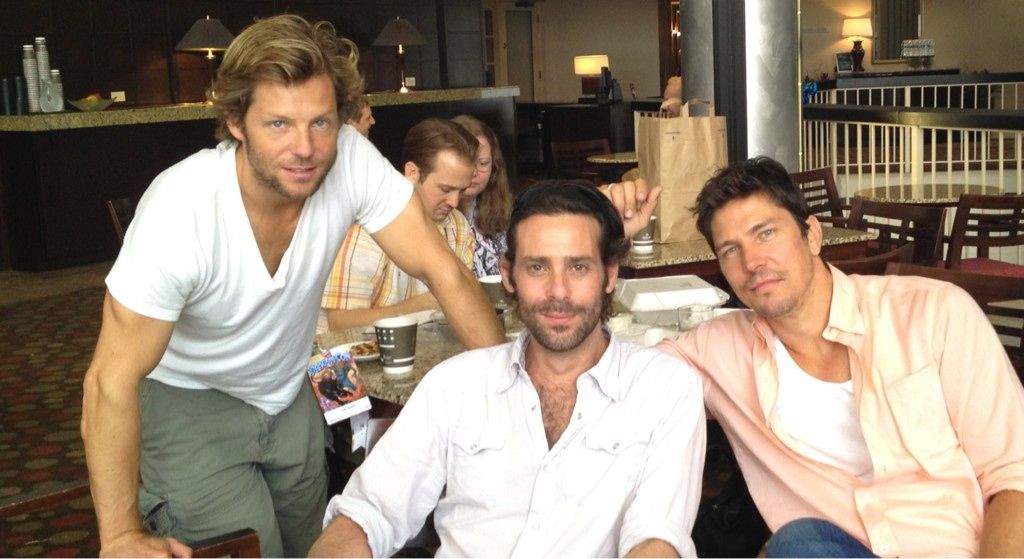 Finally, I had a couple of stories from my time talking to Jamie at the Walk of Fame I wanted to share. Actually, one story I'll start and let
zegeekgirl finish. ;)


zegeekgirl and I visited the Walk of Fame (AKA The Autograph Room) Friday, Saturday and Sunday. We spread out getting autographs and photos in order to have a reason to go back and chat a bit Saturday and Sunday. ;)

Friday I had gotten one Law & Order: UK item signed (we talked a bit about the lovely Emilia di Girolamo, who was his favorite LOUK writer) and Saturday I had him sign one of two LOUK photos I printed before leaving for the con. Jamie actually had a publicity photo of he and Bradley, but I kind of wanted a photo just of Jamie/Matt. I wasn't 100% sure which photo I wanted to have him sign, though I favored a promo photo from one of the episodes, and decided to let him make the call. Or, as I put it, "Which photo of yourself do you like better?" :p He took a quick look, said, "This one" and pulled my preferred photo towards him. This made Zegeekgirl happy since she liked the other photo better and was getting the reject for him to sign. ;)

I then caved and got a photo taken with him at his table. I figured it was a good day to do it since a) I didn't look terrible and b) we both were wearing BSG shirts.
zegeekgirl then had her photo taken. And she blinked. And we didn't realize it until that night. But I'll let her tell the rest of the story. Hey, it gave us a good excuse to go see him again on Sunday.

When we saw him on Sunday, one of the first things he asked was where we had gotten our lanyards (D*C doesn't provide them with your membership badge) and Zegeekgirl mentioned I had brought them. I happened to be wearing a White Collar lanyard (she was wearing my East Dillion Lions one). He asked if I was a White Collar fan? I said I was, then asked if he ever watched it. He hadn't and asked if it was good. I briefly gave him my opinion and then this exchange happened:

Me: "I'd really like to see you on the show."
Jamie: "No, I'm not going to do it. I've got my own show now."
Zegeekgirl: "He's giving you a hard time because you want to see him on it."
Me, without thinking: "Yeah, I'd like to see you next to Matt Bomer."
Jamie: "No. He's not my type."
Me: *DIES*

After Zegeekgirl had her photo do-over (again, her story!), and before we left, I mentioned I had a silly question to ask. I began by saying some of us had noticed he frequently wears IZOD clothing. Jamie quickly corrected me, "Lacoste". I said, "Sorry. OK. Lacoste." (Let me stress, like the previous White Collar exchange, this was all said in humor.) The entire discussion is now a hazy, but I received a bit of history on IZOD/Lacoste (they used to be one company) and I explained I'm an IndyCar fan and watch the IZOD IndyCar series, hence my confusion.

Anyway! As for the answer to my question regarding the mystery of the Lacoste clothing he so frequently wears, the answer will likely come as a surprise to no one. He gets the clothes for free. He has a friend who works for the company in France. And that same good friend invited he and Kerry to the US Open this weekend. Which he was VERY excited about. But, again, the rest of the story is Zegeekgirl's to tell.

And I know I'm not doing justice in recounting these stories. Jamie's delivery is just so deadpan and perfect and I just don't know how to get that across here. Jamie was cracking us up throughout the weekend, both on his panels and in person. Yeah, he really needs to do more comedy.


ETA: Annnd, I'm pretty sure I forgot to post this earlier. We Wear Pink on Wednesdays posted a brief interview with Jamie conducted at D*C. He talks about the convention and how it's changed and Monday Mornings.

ETA 2: Found some more lovely photos on Flickr courtesy of ALH Photos.