The past couple of weeks, both Jamie and Kerry have mentioned the possibility, once TNT gave their OK and the lawyers signed off on everything, that Jamie might have a starring role in a new series for Kudos. Well, now it's official!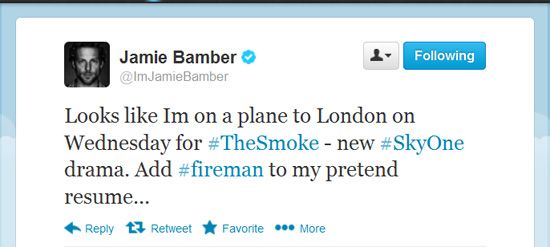 Upon learning that Jamie might be doing a series for Kudos,
zegeekgirl (yep, you totally guessed right ;) did a bit of digging and came up with a June 2012 press release for 'The Smoke' on the Kudos site. Here is part of that press release:


THE SMOKE is an eight part series from Kudos Film and TV written and created by Lucy Kirkwood (Skins). At the heart of the story is a family of firemen and women who, no matter what, always have each other to fall back on. But being a hero isn't easy, especially in a world that regularly disregards them, and it certainly doesn't pay. Many crew members are forced to hold down other jobs on the side, taking some of them into the city's after dark world. The stakes are high but, in THE SMOKE, it's the very lives and souls of the White Watch crew that are at risk.

I'm afraid that's all we have right now. But, hey, it gives us all time to squee while we await further updates. Hopefully, there will be more cast announcements soon since production is about to begin!

Now, for a brief administrative note...After what I like to refer to as six and a half years of shortsightedness on my part, I finally renamed the community "Jamie Bamber News". For those of you have been around since day one, you'll recall the name was simply "Bamber News" and that's what the URL reflected. But now all the various accounts match up! And I put a fresh coat of paint on the place (AKA a new banner ;).